The Director General of World Trade Organization, WTO, Dr. Ngozi Okonjo-Iweala, has advised the Federal government to improve on its multilateral trading system Dr. Okonjo-Iweala, who gave the advice when she paid a working visit  to the Federal Ministry of Foreign Affairs at Abuja, pledged the commitment of the international body in capacity  building for Nigerians.Ekwi Ajide of our Abuja Bureau reports that the visit was her first official visit to Nigeria since she became the Director General of World Trade Organization.
Dr. Okonjo-Iweala, while reeling out plans on how to work with other International Organizations to address Nigeria's infrastructural deficit, advised the country to boost its Africa and world trade, which according to her, currently stands at nineteen and zero point three percent respectively.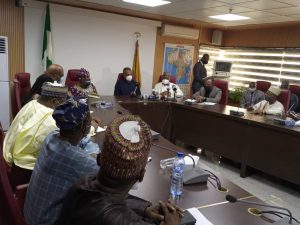 She said the organization is negotiating with other key stakeholders with higher financial powers on how best to encourage Nigerian women and youths to maximize their potential at the International Trade Centre, which has the capacity to training women entrepreneurs and availing them access to International Markets in consonance with the Nigerian Export Organization.
On his part, the Minister of Foreign Affairs, Geoffrey Onyema thanked the visitor for the several efforts she made in easing the country's financial burden in the past and getting creditors to write off the nation's debts and putting Nigeria on the trajectory of growth.