By the time he had his maiden media interview, even President Muhammadu Buhari knew that he had many contentious issues to tackle. Hence, he appeared very relaxed at the early stages but obviously lost his cool when he was taken up on the allegation of marginalisation of South- East. It was a multi-loaded poser. South-East is marginalised. By whom and how? What part of the marginalisation is self-inflicted?
On this very sensitive issue, the questioner must have played into Buhari's hands, as he (Buhari) asked somewhat justifiably, "who is marginalising South-East?" an instant dismissal of the insinuation that he was personally responsible for the real or imagined short-changing of South-East zone. The questioner must have believed in the allegation of marginalisation, in which case, the facts must be on his fingertips. But by the time Buhari fought back, the questioner was left stranded despite the remarkable and indeed unprecedented guts at follow-up questions, which featured the television duel.
There are, however, two indisputable facts. First, marginalisation of South-East exists but second, Buhari or this particular administration cannot be held, especially solely responsible. Another way to put it is that for a zone, which completely opposed Buhari's aspiration to the presidency, it is part of the consequences of that undisguised choice not to expect much more than its current lot, especially so early in the days of Buhari's administration. Anywhere in the world, electoral choices have consequences.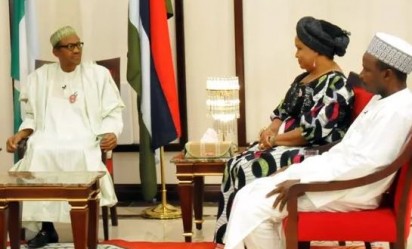 Even then, listen to Muhammadu Buhari. Who is the governor of Central Bank? Who is the Minister of Labour? Who is the Minister of Foreign Affairs? Who is the Minister of Science and Technology? Who is the Petroleum Minister of State/Managing Director of NNPC? Who is the Education Minister of State? These are no favours from President Buhari but the statutory entitlements of South-East under the constitution, not denied that zone, despite the pattern of the results of last year's presidential elections.
This, however, does not mean South-East zone has not been marginalised over the years, for various reasons. More disturbing is the fact that for such marginalisation by the federal authorities, South-Easterners, mainly state governors, federal ministers and National Assembly members are unconscious accessories to that fact of marginalisation. For example, for some unknown reasons, moreso in a democracy, state governors are so scared of federal authorities, such that in any face to face gathering, all 36 state governors fidget before the President of the Republic. So far, there have been only two exceptions, more of enfant terrible – Orji Uzor Kalu under Obasanjo and Fayose under Muhammadu Buhari.
That was why, in particular, Obasanjo and Jonathan considered it confrontational for any state governor even to argue his (state governor's) cause for federal attention. Are state governors from South-East not members of National Council of States? How many of them (from South-East ever drew attention of the council of states to the terrible state of marginalisation – poor infrastructure, mainly federal roads – in South-East? Which single federal road in South-East is motorable for fifty kilometres or even less?

Again, should President Buhari decide for state visit to contiguous like Imo/Aba or Enugu/Ebonyi or Enugu/Anambra, all-out efforts in such two states, at least, a fortnight before such visit, will be geared towards cleaning the streets, patching up especially the very same poor federal roads to pretend everything is fine and comfortable for the August visitor. For such visit, in Imo State, for example, the unofficial waste dump site at Douglas Road would be cleared so as not to in curt the wrath of the President. If the visiting President drives through entirely make believe smooth federal roads, how would he ever appreciate the cries of marginalisation of South-East in terms of infrastructure? Even if such demands are ever made, the President's only memory from his visit will be that of good federal roads in South-East.
Instead host South-East state governors must make the President drive through federal roads in that zone as they actually are, unmotorable, pot-holed, completely broken down as Enugu-Anambra (Onitsha) purported expressway. Why not get federal authorities to simultaneously reconstruct Enugu-Onitsha and Lagos-Ibadan expressways. Where were South-Easterners when critics of the poor state of Lagos-Ibadan expressway refused to give up until second-term seeking President Jonathan awarded the contract for that road, which currently has gone beyond quarter of completion? That contract had to be hurriedly awarded in time before the 2015 presidential elections.
On the other hand, federal bridges spring up all over Nigeria over rivers, waterways and heavy traffic junctions. A fresh mandate-seeking President Jonathan, in 2011, pledged a new Asaba-Onitsha bridge to be completed within his first term in office. He failed to deliver. Yet four years later, South-Easterners with over ninety per cent votes (figures announced) again preferred the same Jonathan. The message sent by South-Easterners is that there is no consequence for failed election promises. What stops another electioneering President from taking South-Easterners for a ride with a similar campaign promise to be broken?
Like other parts of the country, South-East zone has minister and their advisers in the Federal Cabinet. Are they benchwarmers too afraid to speak up at budget sessions? What are their contributions in favour of South-East? Annually at National Assembly and cabinet meetings, estimates are passed without the insistence of South-East representatives on the very poor roads in this zone. That is why without any prejudice to her recently annulled senatorial election, Uche Ekwunife from Anambra central, must be appreciated for her distinction.

So soon after taking her seat, Uche Ekwunife succeeded in dragging Senate Ad-hoc Committee on works led by Bernabas Gamade on inspection of poor roads) in Anambra. What were the efforts of the remaining fourteen senators from South-East?
Another budget has just been passed by the National Assembly. What was the performance of South-East members in focusing on poor infrastructure in that zone, the main thrust of alleged marginalisation? How many of them spoke for redressing the poor situation in South-East? Such dereliction of duty is not new. I saw it at first hand as Chief Press Secretary to former President Ibrahim Babangida. I had to argue, during staff meetings for the federal government take-over of Owerri airport.
The case, as I argued, was straightforward. All airports in Nigeria are Federal-Government owned. Why, therefore, must South-East be the only one constructing an airport through community efforts?
Others would not agree with me on the ground that an Owerri airport would "kill" nearby Port-Harcourt airport. But I maintained my stand that instead, Owerri airport would only complement the Port-Harcourt airport either in an emergency or in coping with heavy air traffic during Christmas and New Year festivals.
President Babangida, swayed by any arguments, agreed with me and overruled the others. That was how federal government took over the construction of Owerri airport. Somehow, the story got to General Ike Nwachukwu, who on a visit to Dodan Barracks, expressed thanks because, as he put it, he was told that very often, I spoke for South-East cause.
I am not from South-East and if I could speak for that zone, why can't South-Easterners in strategic positions – federal cabinet or National Assembly – speak for themselves as much as they speak for other parts of the country? They should be bold and free to perform in such situations. The lot of South-Easterners in those positions is to champion Nigeria's overall development without fear or favour but initially or eventually for the development of their area. That is the basis of political representation.
There is also this mentality in South-East zone, of one man sabotaging group effort. Despite the current justified agitation against marginalization at least in terms of poor roads, all it takes is for the federal authorities to extend some largesse to a key figure, and he will opt out of the agitation. It was of course, even worse during the civil war. While Biafrans were attracting sympathy from the outside world and even from public-spirited figures like Tai Solarin and Wole Soyinka who, for their courage, were clamped into detention on the federal side, a South-Easterner was supplying arms on commercial basis to the federal authorities. At the end of hostilities, this same man emerged one of the leading politicians in South-East. Such would not happen in South-West, where, for life, that man and his family would be ostracised for life in all ramifications.
By the way, for all the controversy, which marked her tenure, ex-Aviation Minister Stella Oduah, now a Senator, elevated Enugu airport to international status, strictly on merit, along with others. She too must be appreciated for her distinction. That is how not to self-marginalise South-East. Enugu airport is one of the oldest, in Nigeria. Still on the television interview, President Buhari strayed into some controversies.
Obviously indignant at the sordid disclosures of misappropriation of public funds, Buhari could not have thereby directed that the bail granted by courts to the suspects be disobeyed. But there is no doubt from his utterances and body language that he agreed with continued detention of the suspects. In the process, he incurred avoidable public criticisms. There was a better explanation by the law enforcement agencies that Sambo Dasuki was re-arrested to arraign him for fresh charges. That is tenable even in a court of law. Without such a compelling reason, there could not be any justification for not obeying court order.
Meanwhile, Buhari's angry response drowned the fact that other accused persons – former Sokoto State governor, Attahiru Bafarawa, electronic media mogul, Dokpesi, and ex-Minister Ambassador Yuguda – had all been released on bail, as directed by law courts. Who are the others granted bail and are still being detained?

There is this other aspect. Even if Sambo Dasuki is still being detained on Buhari's order and in defiance of bail granted by the court, it is a clear case of interference with judicial process. Who is responsible for that? Definitely not Buhari.
Instead, those to be blamed are National Assembly members, and by extension, politicians. They cannot have the better of two worlds. Over two months ago, when it seemed apparent that Senate President Bukola Saraki would be tried by Code of Conduct Tribunal for alleged false declaration of assets, House of Representatives speaker Yakubu Dogara, publicly called on President Buhari to intervene and stop the trial. Dogara was taken up in this column on the danger of his desperate call on the executive (Buhari) to interfere in an ongoing judicial process.
If that was so, how could the same politicians turn round today to accuse Buhari of disrupting judicial process in the matter of bail granted to an accused standing trial? For Buhari, to have yielded to Speaker Yakubu Dogara by halting an ongoing judicial process is no better disobedience of court's power to conduct its statutory duties than not releasing an accused granted bail.
By the way, one other accused purportedly not released after bail granted by the court is the Biafran agitator, Nnamdi Kanu. He is even luckier than Sambo Dasuki. On being arrested on the precinct of the court after he was granted bail, law enforcement agencies indicated that the man was to face fresh charges. And truly, he was re-arraigned within a short time. But he declined both to enter his plea and being tried by the Judge, who instantly returned the charge file to the Chief Judge to re-assign the case to another Judge. Buhari can't be blamed for that or be accused of disobeying court order. It is up to Kanu to face his trial so that he can be considered for bail.
That was the explanation Buhari should have given instead of his macho posture that Kanu did not merit a bail that was NEVER.
Meanwhile, the EFCC or whichever law enforcement agency responsible, must justify its re-arrest of Sambo Dasuki by arraigning him for whatever fresh charges at the earliest possible time, so that he can be considered for another bail.
Sun