For the past seven years, the Willie Obiano administration has successfully and consistently provided road infrastructure to Ndi Anambra even during the economic down turn.
Works Correspondent Ngozi Obileri toured some of the roads and bridges constructed by the current administration in the state and reports that road construction received a boost with construction of many roads across the three senatorial districts of the state in the past seven years. 
In Anambra North Senatorial district, over twenty roads were completed including Awkuzu -SARS -Abube Nando road, Ose Okwodu amarket Onitsha, Umueze- Igboezunu -Nando road among others.
At the Anambra Central District, Nnokwa.-Ichida road, Nkwo- Enugwu-Ukwu -Obeagu Osile -Enugu -Onitsha express road with a spur to Nawfia, were constructed, with that of Enugwu-Ukwu having eleven box culverts, five point two kilometers Oraukwu -Abacha road where asphalting is currently on going, Agbaja Abatete -Oraukwu road,  Ebube Muonso road Uke, Blessed Iwene Tansi parish road Umudioka among others.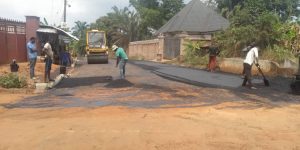 In  Anambra South senatorial District the Ekwulobia- Ezinifite road, Nsogwu road  Umunze, Igboukwu-Ekwulumili road , Justice Nwazota road Oraifite, St Peter's road Nnewichi, Oye Neni – Adazi Nnukwu -Akwaeze -Igboukwu road, Umunamehi road Ihiala,  Ebenato- Udene Amichi road, Oye -Utu -Akwuata -Court road among many others.
On bridges, Governor Obiano constructed fifteen bridges, out of which he inherited four and started and completed eleven namely, the Aguleri -Uno Aguleri Otu-oil rig road with over six kilometers road, the Iyiora Anam bridge , Umueje bridge,  section two Nmiata Anam  bridge, Nengo bridge Nteje, Ezira- Umuomaku-Enugu Umuonyia bridge, Ebenebe- Amansea- Ugbene bridge, not forgetting the three flyovers in Awka.
The Anambra state Commissioner for Works Engineer Marcel Ifejiofor throws more light on the exploits of the present Administration in providing road infrastructure to Ndi Anambra
Having all these roads without proper plan on how to maintain them may be a wasted effort, but the Managing Director, Anambra State Road Maintenance Agency, Engineer Emeka Okoye said that the state government is well prepared to maintain the  roads.
To some individuals, notable among  the traditional ruler of Nteje, Igwe Rowland Odegbo said the construction of bridges in their community did not only link them to their neighbours, but also enhanced the economic activities in their localities.
There is need for Ndi Anambra to take ownership of these roads and bridges by avoiding burning of tires on the roads and shun dumping of refuse inside drainages to promote its life span.