The four day training of Extension Agents on extension tools, methodologies and selected Agric value chain has commenced in Awka, Anambra State.
The training, organized by the Federal Ministry of Agriculture and Rural development at the headquarters of the State's Agricultural Development Programme offices in Nigeria, is simultaneously taking place across the thirty-six States of the federation including the Federal Capital Territory Abuja.
Correspondent, Ebele Ezeh reports that the training, which will end this Friday, had in attendance, all the Extension Service Officers from across the State.
Declaring the training open, Anambra State Commissioner for Agriculture, Mr. Nnamdi Onukwuba said due to the important role Extension Officers play in Agricultural Development Programme, Anambra State Ministry of Agriculture has commenced its own training of Extension Officers on the production practice of small and minor tuber crops as the State's 2021 wet farming season action point.
Mr. Onukwuba, who stated that all fruit crops must be developed in Anambra State as a matter of immediate attention, assured the provision of high breed seedlings for the task.
In his opening address, the Minister of Agriculture and Rural development, Alhaji Sabo Nanono said the training is one of the several strategies planned by the Federal Ministry of Agriculture and Rural Development to check the drift in the Agricultural extension system with the aim of pursuing the revitalization agenda of the Nigerian economy by the Federal Government.
Alhaji Nanono, who spoke through the State Director, Federal Ministry of Agriculture and Rural development, Mr Arthur Mbuba described the training as one of the series of knowledge that will enhance service delivery to farmers both in terms of production process and equipment for technical support.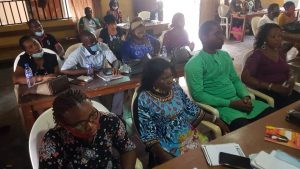 In another address, read by State Agric Programme Manager, Mr. Jude Nwankwor, the Permanent Secretary, Federal Ministry of Agriculture and Rural development, Mr. Ernest Umakhihe said the intervention is geared towards standing the ability of existing Extension Agents in the field and infusing new skills in the youths, who are interested in the sector.
For the Director, Department of Agric Extension, Federal Ministry of Agriculture and Rural development, Mr. Frank Kudla represented by the Desk officer, Extension Services, Mr Vincent Okeke the beneficiaries are expected to map farmers to themselves with the help of the Agricultural Development Programme, conduct step down training and prepare for future capacity building, input services and technology support to farmers.
On their parts, some of the Extension Agents, including Miss. Angela Nnopu from Aguata Extension Agents Zonal office and her counterpart, Mr. Chinedu Obieze from Awka Extension Agents Zonal office, while describing the training as a dream come true, assured their readiness to bequeath the knowledge garnered to farmers even as they appealed for mobility, sensitization of farmers on new technologies through radio jingles and social media.