Prices of food   have sky rocketed in markets in Onitsha following food blockade from the North.
At the grain seed market, Onitsha, trailer loads of tomatoes and pepper usually seen being offloaded were not there except for few Lorries and Vans.
Few buyers were seen bargaining for prices with some tomato sellers.
It was gathered that a basket of tomato is now sold between twenty-five to thirty thousand naira while a basket of pepper sold at five to seven thousand naira is now sold between fifteen to twenty thousand naira.
A custard bucket of tomato is now one thousand, five hundred naira as against five hundred naira previously sold.
Also, a bag of onions sold between six to seven thousand naira is now seventeen to thirty thousand naira. 
The prices of beans were also affected as a bag of big brown seed beans is now sold at fifty-four thousand naira as against fifty thousand sold before while the small brown seed beans is now fifty thousand naira which is sold at forty thousand naira before.
In their separate reactions, a pepper seller Mrs Philomena Amadi and a beans seller, Mr. Sunday Ali lamented the development which brought Scarcity of the food items saying that they couldn't afford to buy the quantity they usually buy and are experiencing low patronage as the prices scares their customers too and pleaded with the government to wade into the matter to restore their businesses.
A rice dealer at the Grain Seed Market, Ichie Marcel Okpala said the development did not affect the prices of rice as a bag of foreign rice is still sold at twenty-two thousand naira while a bag of local rice is fourteen thousand naira.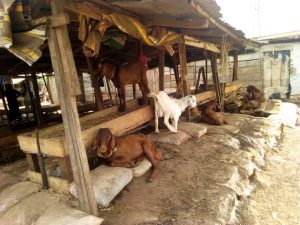 An onions seller, Mr. Mike Ibewuihe who decried the adverse effect of the crisis on traders and buyers, called on government to look into the problem of insecurity in the country saying that none of these goods are supposed to be wasted considering the labour the farmer expended in the farm.
The Chairman of Tomato Dealers, Mr. John Nwodo stated that there is need for all to have spirit of tolerance for people to coexist and do business peacefully saying that   by weekend, the food produce will start coming in from the North as federal government has intervened in the crisis that started in Shasha market, Ibadan.
At Ogbo ewu market along Atani road, few goats were seen while the goat dealers were seen discussing among themselves.
A goat dealer, Mr. Okechukwu Iwuchukwu said they have not gotten supply since last Friday which made them to add money to the ones they have already.
"The biggest goat previously sold at fifty thousand naira is now sold between sixty to sixty-five thousand naira and the smallest goat is sold at twenty-five thousand as against seventeen thousand sold before."