Anambra State Police Command has paraded a-forty-year old woman, Rejoice Raymond for allegedly trafficking and dehumanizing three children at Onitsha.
The suspect, who hails from Umunya, Oyi Local Government Area, resides at the 3-3 area of Onitsha.
Correspondent, Chidinma Ikeanyionwu  reports that  Rejoice Raymond was said to have allegedly confined three children, two boys and a girl inside a room at Onitsha and subjected them to physical and emotional tortures, inflicting different degrees of injury on them.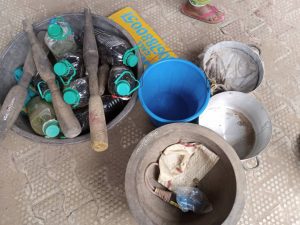 Her victims were badly battered with lacerations all over their body while one of them with a fractured arm is still recuperating from surgery.
In her confessional statement, the suspect admitted that she paid the sum of three million and fifty thousand naira to adopt the children in March 2020 from an alleged staff of the Ministry of Social Welfare, Women and Children's Affairs, Mrs. Sabina Izuorah, who is currently at large.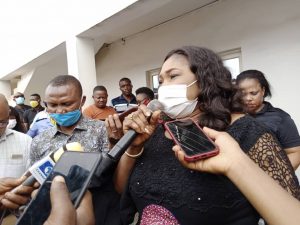 She disclosed that she fulfilled all the necessary requirements Mrs. Izuorah demanded from her without knowing that it was a fake arrangement insisting that she is not a child trafficker.
The Commissioner for Social Welfare, Women and Children's Affairs, Lady Ndidi Mezue revealed that the three children were allegedly sold to the suspect by one Sabina Izuorah, who is now on police wanted list for child trafficking, stealing and forgery.
Lady Ndidi stated that Mrs. Izuorah is involved in unlawful adoptions, using forged police reports, authorization letters from the Ministry and forged court affidavits, to sell children stolen from different parts of the country to her waiting customers within and outside Nigeria.
Speaking, the state Commissioner of Police, Mr. Monday Kuryas, appealed to Ndi Anambra and the general public to assist in apprehending Mrs. Izuorah, by reporting her where about to the nearest police station or calling police emergency number 07039194332.
However, the rescued children identified the suspect as pastor while refusing to get close to her.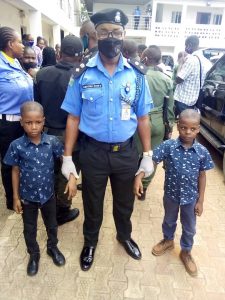 Exhibits recovered at the scene included fetish substances, blood stained canes, concoctions and other incriminating items.