Giving the move to reopen the Lekki Tollgate, many Nigerians mostly youths, have taken to social media threatening to stage another protest due to their displeasure.
Youth representatives at the Lagos State Judicial Panel of Inquiry on Saturday had opposed the reopening of the Lekki toll gate arguing that reopening the toll-gate at this time would be hasty and premature.
The argument over the weekend, however, did not sway the votes as the panel voted in favour of a return of the tollgate to Lekki Concession Company (LCC).
Reacting to this decision, many Nigerians took to Twitter calling out the panel for approving the release of the toll gate when investigations into the Lekki shootings are still ongoing.
According to those threatening to stage another protest come Saturday, February 13, no thought of reopening should be heard at the moment, not when no one has been held accountable for the killing of unarmed protesters, who marched against police brutality on the night of October 20.
The emerging push for another long is currently being anchored on the hashtag #OccupyLekkiTollGate which has been trending on Twitter.
#OccupyLekkiTollGate
You can't open a toll gate where victims of state-sanctioned murder are yet to get justice. No Justice, No Re-Opening.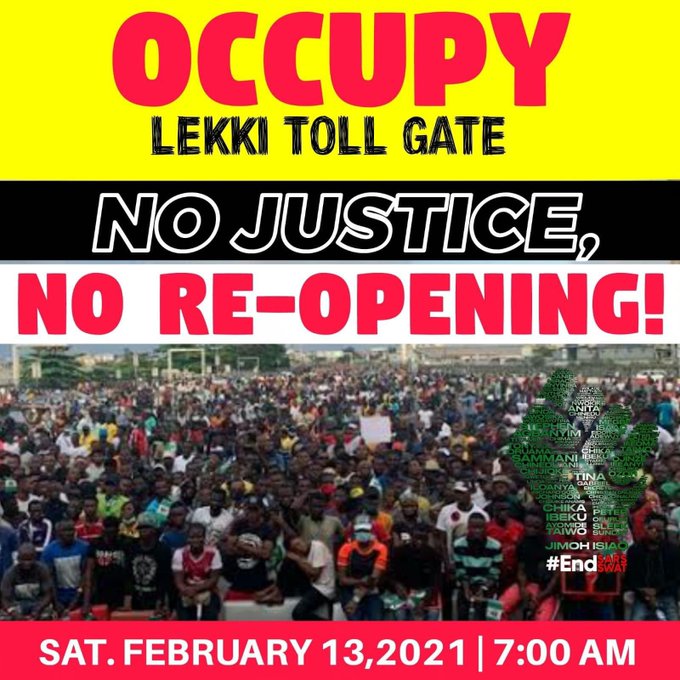 "We all knew that the panel is just a means to divert youths' attention, only the rich and those in power get justice.
"But history has been made and stories will be told of how the youths of Nigeria fought against #Badgovernment #EndSARS," @Shaddyrok tweeted.
Meanwhile, another hashtag which appears to be a counter-protest has also been launched.
Tagged '#DefendLagos', the promoters lamented Lagos State witnessed massive destruction of public and private properties during the #EndSARS protests, arguing further protest that will lead to destruction will not be tolerated.
Promoting the hashtag #DefendLagos protest, Olusoga Owoeye @olusogaowoeye on Twitter said: "Show your love for our Lagos. Get your friends and your neighbours to be there.
"Join the DefendLagos Rally at the Lekki toll plaza on the 13th of February. We will not cede our city to criminals and insurrectionists. Lagos is our pride."
@lollylarry1 said: "No one has the monopoly of madness. The destruction of Lagos by foolish lots is enough. This time we are going to #DefendLagos and #DemNoBornYourPapaWell to do anyhow."
@drjollyseg noted: "@jidesanwoolu this is the time to be proactive! If care is not taken, there will be bloodshed and needless deaths following a possible clash between the two groups. Don't overrule a possible hijack by hoodlums again."