Kelechi Ndukwe, a Nigerian-American, has been appointed the commander of a U.S. Navy ship, USS Halsey (DDG-97), described as an Arleigh Burke-class guided missile destroyer. He is proudly the first Nigerian-American to reach the height.
On Thursday, the U.S. Mission in Nigeria congratulated Mr Ndukwe, an alumnus of the University of Notre Dame and the U.S. Naval War College as he was appointed last Thursday.
Mr Ndukwe, a graduate of chemical engineering is too take over from DeVere Crooks who had commanded the ship since November 2019 while he served as his deputy.
This new appointment promotes Mr Ndukwe to the height of his 18-year career in the US Navy. He started off as an auxiliary officer of the USS Thorn after which a year after he bagged a master's degree in national security and strategy studies from the US Naval War College.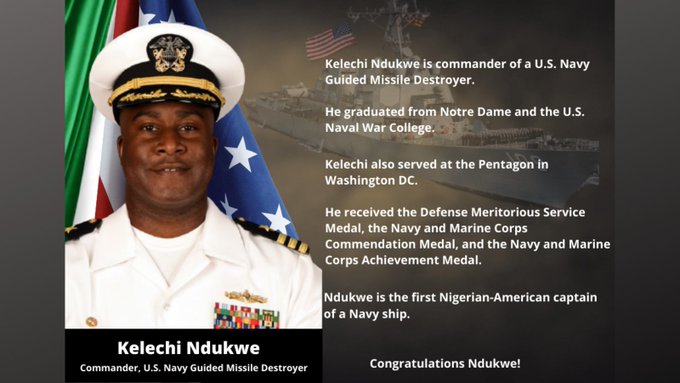 He has also served diligently in the office of the chairman of the joint chiefs of staff (CJCS), America's highest-ranking military officer.
The handing over ceremony took place live on  Facebook during which Mr Ndukwe shared how his parents migrated to the U.S. from Nigeria in 1977 stating as "poor college students with hopes and dreams."