Very Reverend Monsignor Professor Johnbosco Uchechukwu Ndubeze Nwachinaemere Ugiriejiemeaku Akam (Johnbosco for shorts) was born on August 15, 1947, to the family of Mazi Pius Ogbuagu and Monica Ugodiya Akam, all deceased, of Oka, Uga in Aguata LGA. He attended Saint Vincent's Primary School, Uga. On January 20, 1964, young JohnBosco started his journey to the priesthood at All Hallows Seminary, Onitsha.
At the seminary, he proved himself a young boy of rare intelligence with multiple gifts. Always taking the first position in class, JohnBosco was promoted from class three to class five, where he sat for London G.C.E. and came out tops with 6 alphas and 2 credits.
In 1971, JohnBosco started his philosophical studies at Bigard Memorial Seminary, Enugu. Due to his uncommon intelligence, he was promoted from first year to final philosophy, barely six months in the Senior Seminary.
As he completed his philosophical studies, he was moved into the study of Theology in the same Bigard Memorial Seminary, which he completed in first class honours in 1976, with 98.87% average. JohnBosco was ordained a priest on April 24, 1976, at Uga.
JohnBosco was posted to Nnokwa Parish, and later to Akpu. In 1977, he was posted back to his Alma Mater (All Hallows Seminary, Onitsha) as Teacher and Spiritual Director. While in the seminary, he taught Music, French, English and Latin languages as well as Mathematics. That year, the seminary made one of the best results in English Language.
In July 1980, JohnBosco left Nigeria for the University of Louvain, Belgium, becoming the first priest of Onitsha Archdiocese and the 4th Nigerian priest to study in that University. After about five and half years, John Bosco concluded his studies in Louvain-la-Neuve, with six different Degrees, including Doctorate Degree in Philosophy. Back home in 1986, he was posted to lecture at the then Bigard Memorial Seminary, Ikot Ekpene, now St Joseph Major Seminary.
In 1989, JohnBosco was posted back to Bigard Memorial Seminary, Enugu and mandated by the Bishop to re-open the faculty of Philosophy in the seminary. Accordingly, he was appointed the Dean of the faculty. During the period, JohnBosco was also a visiting lecturer at Nnamdi Azikiwe University, Awka.
JohnBosco was elected Rector of his great alma mater – Bigard Memorial Seminary, Enugu. Apparently, in recognition of JohnBosco's tireless works in the Lord's vineyard, in January, 1995, he was called into the Papal Chamberlain and was elevated to the rank of Very Reverend Monsignor.
In April 1996, he was appointed Education Secretary of Awka Diocese. Later, he went back to Onitsha Archdiocese. The then Archbishop of Onitsha, Most Rev. Dr. Albert K. Obiefuna, granted Msgr. Akam the permission to found Missionary Sons of Blessed Tansi, made up of over 150 members.
Very Rev. Msgr. Prof. JohnBosco Akam founded other non-profit making and humanitarian organizations, through which he built more than 35 houses for the poor in various parts of the country; also fully sponsored more than 26 marriages (including bride-price payments, Igba-nkwu, etc); settled hundreds of hospital bills for poor families; and financed primary, secondary and tertiary education of very many children of the poor. As a matter of fact, over 1,000 students have benefitted from Akam's Scholarship Scheme.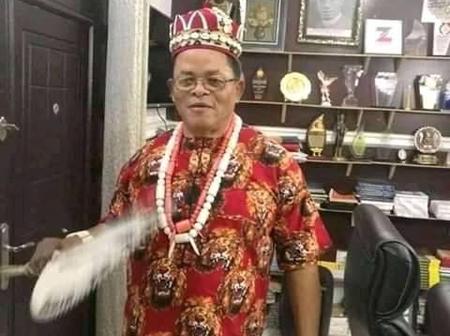 One of the areas that had presented itself as JohnBosco's natural calling by God is founding educational institutions. He founded reputable schools in some parts of the country. One of them is Our Lady of Waldenstein Educational Centre, Oka, Uga (comprising the Nursery, Primary and Secondary, including the famous Konigin Des Friedens College (KFC). In Enugu, he founded the famous Queen of Peace Educational Centre, prominent among which is the Konigin Des Friedens College (KFC) Enugu, which remains a secondary school of distinction in South East Nigeria.
Most outstanding of JohnBosco's achievements in the educational sector is the founding of Tansian University; a citadel of tertiary education, already making waves in the society for its excellence.
What else can we say about JohnBosco Akam? He flowered and blossomed as an accomplished, committed man of God, merciful and caring human being and lover of humanity. He has gone but we will honour him always by building on his positive legacies of charity, magnanimity and integrity, of diligence, patience and prudence, and of humility, integrity and fervent love of education.
May the gentle soul of Very Rev. Msgr. Prof. Johnbosco Uchechukwu Ndubeze Nwachinaemere Ugiriejiemeaku Akam rest in peace. Amen.
WRITTEN PROF. UCHE AKAM